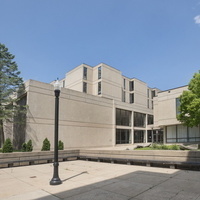 Music Building
The Music Building houses the School of Music and the Music Library. It also contains two performance halls: Boutell Memorial Concert Hall and Recital Hall.
550 Lucinda Ave, DeKalb, IL 60115

The Huskie Marching Band's 2018 Band Camp will begin on August 19th at 7:00pm and conclude on August 25th.
Mark Ponzo, cornet Kelly Langenberg, horn Jeremy Moeller, trombone Scott Tegge, euphonium
Bach: Art of Fugue (selections) Mendelssohn: String Quartet No. 1 in E-flat Major, Op. 12 Bartok: String Quartet No. 1 in A minor, Op. 7, Sz. 40 Also...
Recent Events