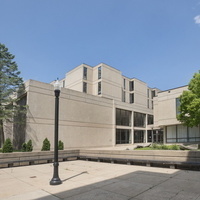 Music Building
The Music Building houses the School of Music and the Music Library. It also contains two performance halls: Boutell Memorial Concert Hall and Recital Hall.
550 Lucinda Ave, DeKalb, IL 60115
Recent Events

Peri DuBois left a positive review
4/9/2019
Beautifully done, as always. The Mendelssohn piece was spectacular.

Jay Monteiro left a positive review
4/4/2019
It was very nice. The guest speakers did a great job of reinforcing why NIU selected Dr. Freeman. Avalon and the Concert Choir were a nice addition. Well done!

Vivian Seki left a positive review
3/26/2019
It was fantastic!

Lynn Schmitz left a positive review
3/22/2019
Evan's recital was great. Innovative and so beyond what my mind had thought of percussion! Thanks for expanding my musical horizons!

Bob O'Connor left a positive review
3/22/2019
Evan did a great in preparing and performing his senior recital. He had a few NIU follow students help with some of the selections he did and they were great also. It was a highly entertaining performance.

Henry Leonard left a positive review
12/1/2018
This was a terrific concert! My wife and I enjoyed it greatly!

Pen Novus left a review
11/14/2018
I love the Philharmonic concerts in terms of the music chosen and the obvious skill of the students, but the extended commentary before every piece makes the concerts harder to enjoy. It almost feels like a cheat to have the entire piece explained before it's played, especially when the word choice doesn't always seem careful. During this particular concert, which I could only manage on the webcast, a comment was made about a "pagan orgy" and "savage" percussion, which I don't imagine was said with the intent of racism, but came across pretty unfortunately. Overall, the music is always good and I love to support the music students. Classical music that I can count on being played well is a real pleasure, but extended and at least somewhat bias commentary takes away from the real reason I love these concerts.

Paul Kassel left a positive review
11/12/2018
A wonderful evening of opera scenes and songs! The students were just terrific--in great voice with lots of stage presence. It was funny, moving, and gloriously. Kudos to Maestro Drusko and Stage Director, Matthew Romriell. There was also a mildly amusing turn by a special guest at the end that included tap dancing and juggling. ;)

Frances Moon left a positive review
10/9/2018
It exceeded my expectations. I enjoyed the programming very much. It's a wonderful but underused resource for our community.

Michael Mackey left a positive review
10/12/2018
Great evening of wonderful jazz. A real treat to hear such talented musicians in our own back yard.