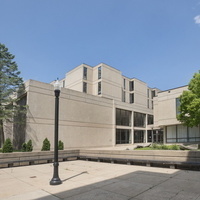 Music Building
The Music Building houses the School of Music and the Music Library. It also contains two performance halls: Boutell Memorial Concert Hall and Recital Hall.
550 Lucinda Ave, DeKalb, IL 60115
Recent Events

Paul Kassel left a positive review
12/2/2017
What a fantastic concert! The choirs all sounded magnificent, their voices ringing and surrounding Boutell Concert Hall. A good size house and responsive audience showed their appreciation at the end with a long ovation. Special shout out to the students in Chamber Choir--the First Noel was tremendous! Bravo to Eric Johnson and his team for putting together such a wonderful event!