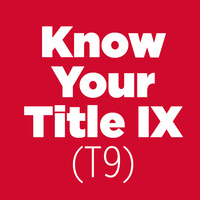 Title IX Education and Awareness Online Training begins
All public colleges in the State of Illinois are required to ensure students, faculty and staff receive information and training annually regarding sexual violence. Northern Illinois University provides this via an online system.
On October 1, 2017, students will have access to the 2017-18 Title IX Education and Awareness online training module in Blackboard. When logged into Blackboard, the training module will be found under Community > My Organizations. All students are required to take this online training module UNLESS they are first-year students or new transfers, and participated in Haven and Alcohol Edu since August 1, 2017. If you do not see the training in Blackboard on or after October 1st, and you are not a first-year student or new transfer, please have them contact aaec_training@niu.edu for more information.
Please also be aware, student employees and graduate assistants will need to take this training during the student session (October 1 – December 1, 2017). Student employees will not have access during the employee session which will begin in February 2018. During the training session, student employees will be told to print and retain their certificate in the event their supervisor requests it during the employee section early next year. Title IX violations change lives forever. Knowing the types of sexual misconduct, the meaning of consent, the available resources and services, and how to make a report, will assist all students in having a positive college experience.
Please participate in this training before the deadline of December 1, 2017. They may read the FAQ at www.niu.edu/aaec/training/title-ix.shtml if they have questions. This is updated on a regular basis. Please do not confuse this training with the annual Ethics training for employees. That is a separate training which all employees must also participate.
Friday, December 1, 2017 at 8:00 AM to 5:00 PM
Target Audience

Tags

Website
Cost

Free

Department

Subscribe