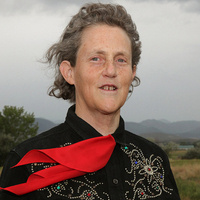 Temple Grandin: Developing Individuals Who Have Different Kinds of Minds
Temple Grandin is a best-selling author and internationally acclaimed speaker on autism. Grandin was one of the first people to publicly share her insights into autism from an insider's perspective. She is a prominent author and speaker on autism, and has published multiple books on the subject. Grandin also has a successful career consulting on both livestock handling equipment design and animal welfare. She is a professor of Animal Science at Colorado State University and has authored several books on animal behavior and working with animals. Grandin's success story was told in the 2010 film "Temple Grandin," an award-winning HBO production starring Claire Danes.
For more information about this event or for an interpreter and accommodations, please email chhsevents@niu.edu or call (815) 753-1484. Co-sponsored by the Graduate Colloquium Committee and the School of Allied Health and Communicative Disorders.
This event is free and open to the public.
Wednesday, December 6, 2017 at 6:30 PM
Holmes Student Center, Duke Ellington Ballroom 340 Carroll Ave, DeKalb, IL 60115
Event Type

Topic

Target Audience
Cost

Free

Department

Subscribe