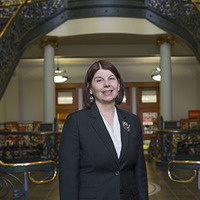 President's Appreciation Gathering for Faculty & Staff
This year, Acting President Lisa C. Freeman will host the first annual President's Appreciation Gathering for Faculty and Staff.
This open house is planned from 2 to 4:30 p.m. Monday, Dec. 11, in the Altgeld Hall Auditorium. Stop in at this fun-filled reception that will feature desserts and activities.
In addition to the leadership expressing its gratefulness to our faculty and staff, we would like to give everyone an opportunity to spread goodness, giving, and care for all of our Huskie family, especially students. At this event, there will be a giving space where you will be able to:
Sign up to volunteer at the Huskie Food Pantry
Donate gently-used cold weather gear for our international students.
Monday, December 11, 2017 at 2:00 PM to 4:30 PM
Altgeld Hall, Auditorium (second floor)
Event Type

Target Audience
Department

Subscribe