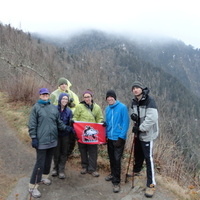 Outdoor Adventures Hike and Camp in the Great Smoky Mountain National Park
Hike and Camp in the Great Smoky Mountain National Park
Looking to recover from the stress of finals and want an amazing experience with memories that will last a lifetime? Join NIU Outdoor Adventures for a 7-day adventure in the Great Smoky Mountains, TN that includes epic hiking, scenic views, and relaxation in the great outdoors.
The Great Smoky Mountains National Park holds the title of America's most visited national park for many reasons: ancient mountains, forest-covered peaks, enormous white pines, roaring waterfalls, and diverse wildlife. During the day, we will explore the park on iconic trails like Chimney Tops, Alum Cave, Clingmans Dome, and even hike a portion of the famous Appalachian Trail. At night, relax around the fire with great food, fellowship, and the beautiful night sky. The price includes all the gear (tents, sleeping bags, etc.), transportation, food, and campsites.
Find out more details at the Info Meeting: Mon, Mar. 19 or Tues, Apr. 3 5:00 P.M. in the Rec Center
Pre-Trip Meeting Weds, May 9 at 5:00 P.M. in the Rec Center
Activity Level: Moderate
Date and time(s): Mon, May 14- Sun, May 20, 7:00 A.M. – 7:00 P.M.
Registration closes May 9 NIU Student: $400.00 Faculty/Staff/Community: $450.00
If you register before Apr 18, receive a $50 discount!
NIU Student Sign-Up
Faculty/Staff/Community Sign-Up
Sunday, May 20, 2018 at 7:00 AM to 7:00 PM
Great Smoky Mountain National Park
Event Type

Topic

Target Audience

Tags

Website
Department

Hashtag

Contact Name

Outdoor Adventures

Contact Email or Phone

Subscribe