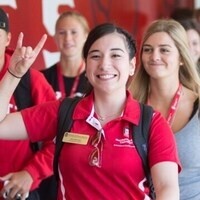 Orientation Leader/Intern 101 Session
Be a Leader! Apply to be part of our Orientation Team!
Orientation and Family Connections is looking for motivated students who want to serve as 2018 Orientation Leaders or Orientation Program Interns.
Both positions will allow you to gain significant leadership skills, develop your communication skills, meet incoming new students and represent NIU. Plus, both positions offer a $2,000 stipend!
In order to apply, you'll have to attend an Orientation Leader/Orientation Program Intern 101 Session in order for us to accept your application. You can turn in your application first but make sure you also attend a 101 Session.
101 Sessions are about 40 minutes where we'll share with you everything you need to know about being an Orientation Leader or Orientation Program Intern. We'll discuss the benefits of the position and what you can expect throughout the selection process. You'll meet some former Orientation Leaders/Orientation Program Interns and get all of your questions answered.
For more information and the online application, visit go.niu.edu/joinourteam. Your application is due on Friday, Dec. 1 by midnight.
If you have any questions please feel free to contact us at orientation@niu.edu or (815) 753-1535. We look forward to seeing you soon!
Tuesday, November 28, 2017 at 6:30 PM to 7:15 PM
Holmes Student Center
600 Lucinda Ave, DeKalb, IL 60115
Event Type

Website
Subscribe