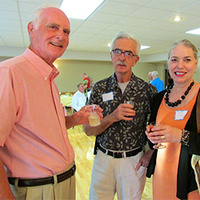 NIU Lifelong Learning Institute Spring Term
The Northern Illinois University Lifelong Learning Institute (LLI) is a member-directed group of retirement-age people who seek new learning experiences. Members, regardless of their education, enjoy continuing to learn in an informal, flexible, and non-competitive environment with individual participation. They rekindle old interests and pursue new ones at a reasonable cost without being concerned with credits, grades, exams, or prerequisites.
Members determine the topics offered in study groups, workshops, and lectures and often serve as LLI conveners, instructors, and discussion leaders. In some instances, non-members with particular expertise may also serve as volunteer conveners.
A self-supporting institute, the LLI relies on members' dues for its financial needs and on member volunteers for all committees and program administration.
Spring 2018
Tuesday Morning Study Groups
American Indians: Separating Myth from Reality
9 – 11 a.m.
Tuesdays: March 13, 20, 27, April 3, 10, 17, 24, May 1
Focusing on the period from 1840 to 1890 and the tribes of the Great Plains, the class will explore how Indian cultures and lifestyles inevitably conflicted with pioneer aspirations as well as U.S. laws, policies, and treaties designed to assimilate or eliminate American Indians. The class will also attempt to separate myth from reality about legendary Indian warriors (Cochise, Geronimo, and Crazy Horse), Indian chiefs (Joseph, Red Cloud, and Sitting Bull), and army officers (Sherman, Sheridan, and Custer), as well as major "battles" (Bozeman Trail, Little Big Horn, and Wounded Knee) fought between the two sides. More recent conflicts, reservation life today, and current success stories will be reviewed as well.
Convener: Joe Grush was professor and chair of the Psychology Department, associate and acting dean of the College of Liberal Arts and Sciences, and associate and deputy provost, all at NIU. He has previously taught and guest-lectured for LLI.
Microbes: Friends or Foes?
9-11 a.m.
Tuesdays: March 13, 20, 27, April 4, 10, 17, 24, May 1
This course will explore the diversity and roles of microbes in our environment – in soil, freshwater, oceans, and as a whole microbiome in our bodies. Through many YouTube clips and TED talks, we will look at microbes as waste managers, as food producers and spoilers, and as producers of antibiotics and many other industrial and pharmaceutical products.
Convener: Pat Vary is a biological sciences Distinguished Research Professor Emerita and taught microbiology and microbial genetics at NIU. She has convened LLI classes on microbiology, climate change, alternative energy, and musicals.
Tuesday Afternoon Study Groups
Franklin Delano Roosevelt: The Life and Times of FDR
1:30 – 3:30 p.m.
Tuesdays: March 13, 20, 27, April 3, 10, 17, 24, May 1
FDR is probably best known as America's only four-term president, but beyond that fact, he was a fascinating and complex individual. Born to the Roosevelts of Hyde Park, NY, and related to the Roosevelts of Oyster Bay, NY, he grew up in a life of privilege and was an early star in New York politics. But the contraction of polio at age 38 completely changed his personal and political life. He went on to become the governor of New York before guiding the nation through what is arguably the most difficult 12-year period in our history: the Great Depression and World War II. His leadership changed the United States profoundly, both at home and in the world. This course will use contemporary biographical materials, from books and video sources, to examine how this fascinating man became the most influential United States president of the 20th century.
Convener: Bill Cummings is a professor emeritus from the Department of Accountancy at NIU and has been involved with LLI for about 10 years. He has convened previous courses on railroad history, films involving trains, World War I, and the Manhattan Project. After a recent trip to Hyde Park, NY, he became interested in the life of FDR.
Music and Art for the Common Person
1:30 – 3:30 p.m.
Tuesdays: April 10, 17, 24, May 1
(Note: This study group meets for four weeks)
One of composer Aaron Copland's popular orchestral pieces is Fanfare for The Common Man. Borrowing from this title, this course focuses on the lives and works of four individuals, two from the world of music and two from art. All were Americans with modest beginnings: Copland and composer Leroy Anderson in music and Norman Rockwell and Andrew Wyeth in painting. All had the unique ability to capture the American spirit with expressions of universal appeal. Their themes and subjects ranged from Copland's Rodeo and Appalachian Spring to Anderson's Sleigh Rideand Typewriter Song to Rockwell's No Swimming and Saying Grace to Wyeth's That Gentleman and Christina's World.
Convener: Paul Pawlowski, a retired attorney, has convened numerous LLI courses dealing with the arts.
Wednesday Morning Study Groups
D-Day: June 6, 1944
9:30 — 11:30 a.m.
Wednesdays: March 14, 21, 28, April 4, 12, 19, 26, May 3
(Note: This study group meets for four weeks)
If the Allies were to defeat Nazi Germany in 1944, they first had to invade France. But how, when, and where? This study group will cover all aspects of the D-Day operation, beginning with preparations for war that began all the way back in 1919. We will examine the planning of the invasion, the choice of the landing site, the deception operations to mislead the Germans, the double agents, and the contributions of the Government Cipher School at Bletchley Park. D-Day was a combined arms operation before that term existed, so we will include the roles of the United States Army Air Corps and the United States Navy. Specialized craft will also be discussed. At the conclusion of the final session, participants will know and understand the sequence of events from the reconnaissance of the beaches to the end of D-Day plus one.
Convener: Roger Dale Seymore, a retired U.S. Army major, entered military service in June 1969 and retired from active duty in January 1995. Major Seymore has had a lifelong interest in the military history of the United States from 1850 to the present. He is happy to share his knowledge and insights with this LLI study group.
NIU Student Research, Artistry, and Engagement
9:30-11:30 a.m.
Wednesdays: April 11, 18, 25, May 2
(Note: This study group meets for four weeks)
Undergraduate students will present the results of the research, artistry, and engagement projects that they have participated in throughout the academic year. This is an opportunity to learn about many of the cutting-edge projects going on at NIU.
Convener: Jack King, Director of Student Professional Development in the NIU College of Liberal Arts and Sciences, has convened many informative sessions for LLI.
Wednesday Afternoon Study Group
Classic Western Movies
1 – 3 p.m.
Wednesdays: March 14, 21, 28, April 4, 11, 18, 25, May 2
This class will show and discuss classic western movies. Films to be shown include Shane, The Big Country, Winchester '73, Ulzana's Raid, and others.
Conveners: Elaine and George Spencer are retired NIU history professors who have convened numerous LLI classes.
America: The Land - The People, Part III
1 – 3 p.m.
Wednesdays: March 14, 21, 28, April 4, 11, 18, 25, May 2
We must be free not because we claim freedom, but because we practice it.
—William Faulkner
America is known as "the land of opportunity," where you are free to follow your dreams. The promise of America is found not just in its land, but in its people and their indomitable spirit. During this session, as we travel from sea to shining sea admiring the land, we will be returning to Louis Schwartzberg's short vignettes highlighting ordinary Americans sharing their extraordinary stories as they strive to follow their dreams. These vignettes will be complemented by detailed profiles of three citizens who captured the incomparable beauty and spirit of America in their photography: David Brower, the father of modern environmentalism; Bill Cunningham, New York Times street photographer; and Vivian Maier, nanny and prolific amateur photographer. They all strove to capture the unique beauty of the land, the spirit of individualism, and the qualities of everyday American life.
Conveners: Linda Fulton, a retired middle-school teacher, and Ginny Omerod, a retired school counselor, both delight in America, its land and its people. Join them for conversation as they take you on a journey across America.
Thursday Morning Study Group
The Truth About Money
9:30 – 11:30 a.m.
Thursdays: March 15, 22, 29, April 5, 12, 19, 26, May 3
In this class, we will talk about the risks and returns of today's investment opportunities. Emphasis will be on how investments are valued and are affected by changes in the interest-rate environment, changes in inflation, changes in technology, changes in taxation, and changes in the political environment. We will also discuss the effect of our own age on the investment opportunities we can effectively utilize.
Convener: Dick Dowen is professor emeritus in the NIU Department of Finance. He holds a CFA charter and is a past president of the Midwest Finance Association, a former member of a publicly traded mutual-fund board of trustees, and a past member of the State Treasurers Investment Advisory Board.
Using the Tool in Your Hand: Exploring Use of Your Mobile Device
9:30 – 11:30 a.m.
Thursdays: March 22, 29
(Note: the study group meets for two weeks)
Join Professor Alicia Schatteman and her students for a hands-on experience. Share what you want your cell phone to help you with and let the students walk you through the steps to get those apps up and running! The first session is to go over your needs and try out some initial ideas. In the second session, we will review the earlier session and take your cell phone use to the next level. We will work with you on your needs such as text messaging, checking the weather, receiving and sending photos, using maps for directions, surfing the Web or using social media.
Convener: Alicia M. Schatteman is an NIU associate professor with the Center for Nonprofit and NGO Studies and the Department of Public Administration, School of Public and Global Affairs. She has been a speaker in our LLI Notable Series.
Dramatists' Poetry: Shakespeare and Pinter
9:30 – 11:30 a.m.
Thursdays: April 12, 19, 26, May 3
(Note: the study group meets for four weeks)
This course will read and discuss poems by two great dramatists: William Shakespeare and Harold Pinter. Shakespeare's sonnets 29 and 30 and perhaps, if there is time, his neglected poem "The Phoenix and the Turtle," will be followed by close reading and discussion of early middle and late poems by the Nobel Prize-winning Harold Pinter. Texts of the poems will be available, and the approach will be "formalist" – in other words, based on close reading.
Convener: William Baker is an NIU Distinguished Research Professor Emeritus of English. He is the author or co-author of more than 30 books and over 200 refereed articles. These include studies of William Shakespeare and Harold Pinter.
Thursday Afternoon Study Groups
U.S. Presidents: Truman through Clinton
1 – 3 p.m.
Thursdays: March 15, 22, 29, April 5, 12, 19, 26, May 3
U.S. presidents in the latter half of the 20th century faced unique challenges as both domestic and global leaders. We'll see how each was molded by his biography and how each faced the challenges and opportunities afforded to him.
Convener: Carol Zar has an interest in history and biography. She has convened many LLI classes ranging from politics to opera.
Tuesday, March 13 at 9:00 AM to 3:30 PM
Holmes Student Center
600 Lucinda Ave, DeKalb, IL 60115
Event Type

Topic

Target Audience

Website
Department

Hashtag

Contact Name

Mark Pietrowski

Contact Email or Phone

Subscribe