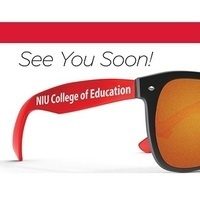 New Student Welcome Event - College of Education
Calling all new College of Education Students!
Free Food and Yard Games on the West Lawn of Anderson Hall.
Pick Up Your FREE CoE Sunglasses!
Sunday, August 26, 2018 at 12:30 PM to 2:00 PM
Anderson Hall, West Lawn
520 Garden Rd, DeKalb, IL 60115

It was hot and being that I am not a young student I wish there would have been more direction as far a being introduced to other students in our field. It was kind of awkward.