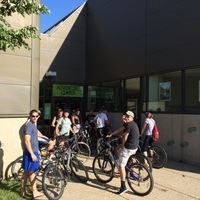 FREE Outdoor Adventures Wednesday Weekly Bike Rides
FREE Weekly Bike Rides from the Adventure Center
Outdoor Adventures will be hosting free weekly bike rides again this spring. Come hang out with our awesome staff, ride around town, and meet some awesome new people! On these rides, you can find out about local bike trails and get a good workout, too. Take this as an opportunity to visit a local joint or trail and suggest a destination via e-mail! This ride is for all skill levels. Don't have a bike? The Adventure Center will loan you one of their rental Trek mountain bikes (first come, first serve). Meet at the Adventure Center by 5:00 P.M.!
Activity Level: Light
Date and time(s): Wednesdays, starting Mar. 21 to May 2, meet at 5:00 P.M.
Wednesday, May 2 at 5:00 PM to 6:00 PM
Student Recreation Center, Adventure Center
325 N Annie Glidden Rd, DeKalb, IL 60115
Event Type

Topic

Target Audience

Tags

Website
Group

Department

Hashtag

Contact Name

Outdoor Adventures

Contact Email or Phone

Subscribe