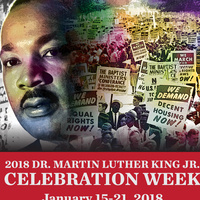 Journey Toward Justice
The journey toward justice has a long history and has impacted groups regardless of race, ethnicity, economic status, sexual orientation, gender identity, nationality, or any other cultural dimension. This walking exhibit introduces visitors to social movements and coalition-building across time. Walk through the exhibit at their own pace and reflect on past activism, present efforts, and issues still needing attention. The exhibit will remain open from 2:00pm-7:00pm.
A formal program will take place at 5:00pm with remarks and a presentation on social movements that have moved through a journey toward justice.
Tuesday, January 16, 2018 at 2:00 PM to 7:00 PM
Holmes Student Center, Regency Room
600 Lucinda Ave, DeKalb, IL 60115
Event Type

Topic

Target Audience

Tags

Website
Department

Subscribe